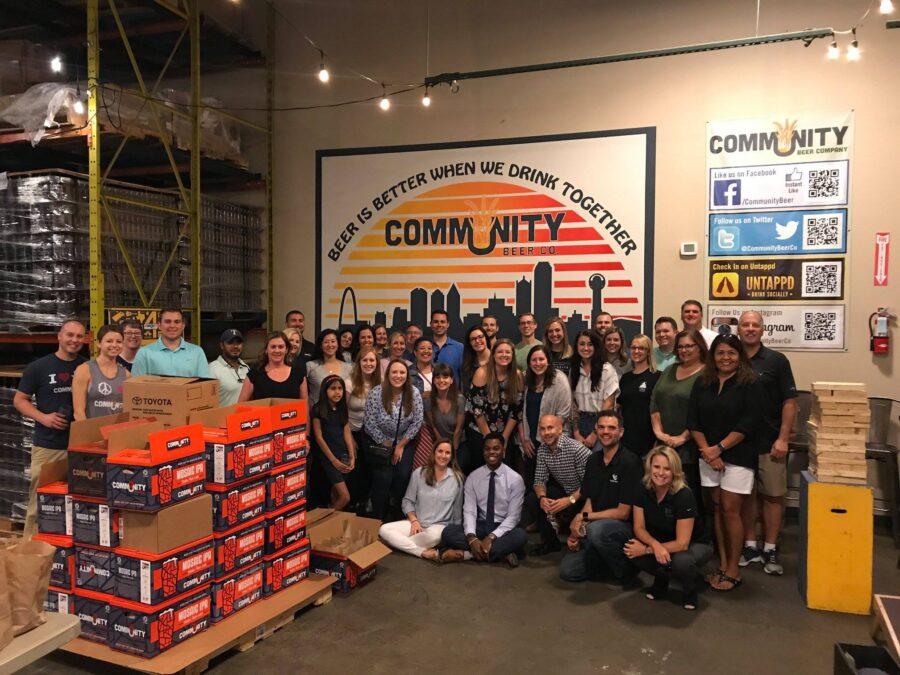 Community Beer Company located in Dallas, held an event in which they invited and encouraged people to take part in a volunteer event for Vogel Alcove. The Brewery recently created their own 501c3 to give back to the city they live, work and play within. The organization is named "The Greater Good" and was a dream of owners Andi and Kevin Carr.
Their organization creates opportunities for fans of their beer to engage with the brand in volunteer initiatives. Community Beer has been a supporter of Vogel Alcove for many years, but with their new organization, they were able to activate their volunteers to help with a critical project.
Vogel Alcove provides Bye-Bye Bags to each of our families on a daily basis. These bags are set out each afternoon for our families to take with them as they leave for the day and return to the shelters. Many times, when our families leave or facilities, we don't know if they will receive dinner, or if the dinner provided will still be available upon their arrival. In thinking of this issue, we created bags filled with items such as proteins, non-perishable snacks and fruits, water or juice. These bags help our families have a source of nutrition until they can come back to us in the morning where they receive a hot breakfast, lunch and a hearty afternoon snack.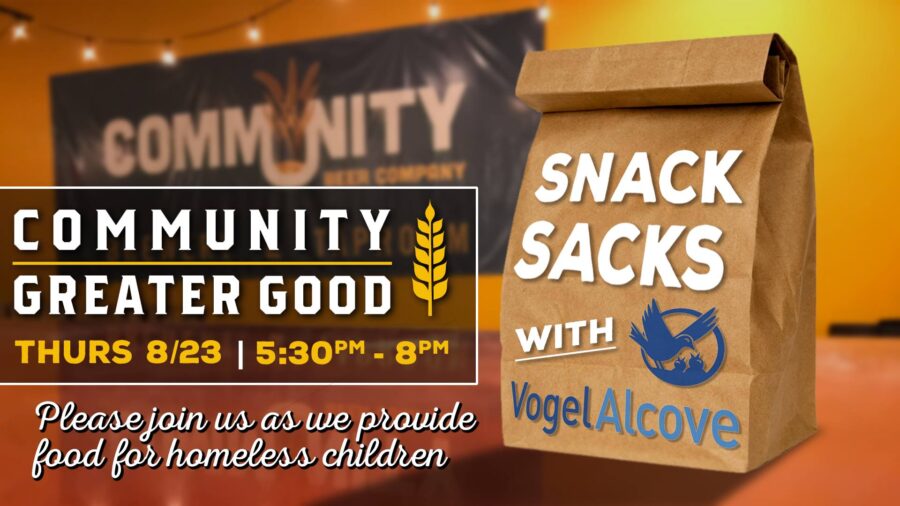 The Greater Good volunteers were asked to donate items to create the bags, and the Brewery sponsored items to create 500 (!) bye-bye bags for our families. The event was a huge success and the volunteers learned about our mission and organization. This is the first event for the group, but they have already decided to continue their support of Vogel Alcove.
Cheers to all the volunteers and donors that helped produce the bags that evening. We look forward to future projects and encourage others to do the same.
Want your company or group to create bye-bye bags? Reach out via the link below to connect with us! We look forward to learning how you want to help.
Click here to be connected with our volunteer department.