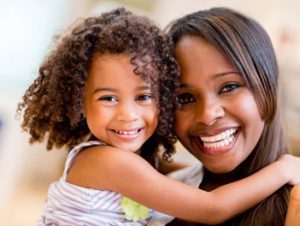 Susan and her youngest daughter entered Vogel Alcove in the spring. She and her three children (two of whom are school age) had just moved into a family homeless shelter housing program. Before moving into the shelter program, the family lived in their own home in a suburban community with good schools. Susan's husband was struggling with an ongoing drug addiction, which had caused him to lose his job and the family's savings.
When Susan could not support the family on her earnings as an administrative assistant at a local university, the family lost their home. At the time they came to us for help, her husband was in jail and would have to complete a rehab program after being released. Within a few months, he had done both; however, the shelter did not allow him to join the family in its program. For a while, he lived with friends from church. During that time, Susan tried to rebuild the marriage, but after her husband relapsed a few months later and was jailed again, she decided to divorce.
She graduated from her housing program last August after approximately 15 months. She had not yet procured housing but was able to live with a family from her church while she waited for a deal to go through on a house she was hoping to purchase. She would be taking over the mortgage from some family friends, and the process was very long and drawn out. She was finally able to close on the house the day before Thanksgiving. We nominated her for the "You Make My Home Smile" contest through Dallas Furniture Bank, which she won, and she received a house full of furniture. She has her older children settled into a charter school close to home and has applied for Child Care Assistance (CCA) early in her stay at Vogel Alcove. Although she was approved, there were no CCA funds available at the time of her exit from the shelter program.
Fortunately, leaving a housing program does not mean leaving Vogel Alcove. As a single mom, she struggled even though she was working full time. The family generally lived paycheck to paycheck. Most of her youngest child's clothes and shoes over the last 18 months came from Vogel Alcove, and Susan credits this along with free daycare as a major factor in why she was able to get to where she is. She eventually received CCA funding, and her child transitioned to a child care center close to the family's new home in their previous community. Throughout her period of homelessness, this parent was able to maintain her employment and thus re-establish her family back in the familiar environment of school, church and neighborhood.