Our Board Members & Leadership
Vogel Alcove board member Robert Jenkins on what Black History Month means to him:

"A deep knowledge and appreciation of the contributions of men and women of African descent is foundational to being a thoughtful and responsible American citizen. Black History is all our history and I appreciate the opportunity to focus on it more intentionally during the month of February. Black history Month matters because it educates , unites, and inspires us."

– Robert Jenkins, Vogel Alcove Board Member, and Main Event VP National Sales, Strategic Initiatives at Main Event Entertainment
Vogel Alcove board member Cletus Judge on what Black History Month means to him:
"Black History Month celebrates the contributions and sacrifices of African Americans who helped build and shape this nation. These contributions exist in every field of human endeavor; the arts, science, medicine, education, and politics. The accomplishments and achievements of African Americans celebrate African history and American history.

The celebration of Black History also fuels young Black people of the potential for greatness within themselves."

– Cletus Judge, Vogel Alcove Board Member, and Director – Eastfield Police Academy Retired Dallas Police Sergeant 30 yrs Former Military Officer-USAR Captain
Vogel Alcove CEO Karen Hughes on what Black History Month means to her:
"Black history to me means celebrating and acknowledging the abundance of diversity that is woven through the fabric of Vogel Alcove's 35-year history.

Standing on a foundation of diversity, equity, and inclusion (DEI) is the only way you, me, our clients, and supporters continue to strengthen our collective futures. Inclusiveness is core to Vogel Alcove's values and essential to fulfilling our purpose of being responsive to the needs of everyone in the community, regardless of their racial/ethnic background.

Celebrating Black culture means the impact that we make every day means something, and there is no question about that."

– Karen Hughes, Vogel Alcove President / CEO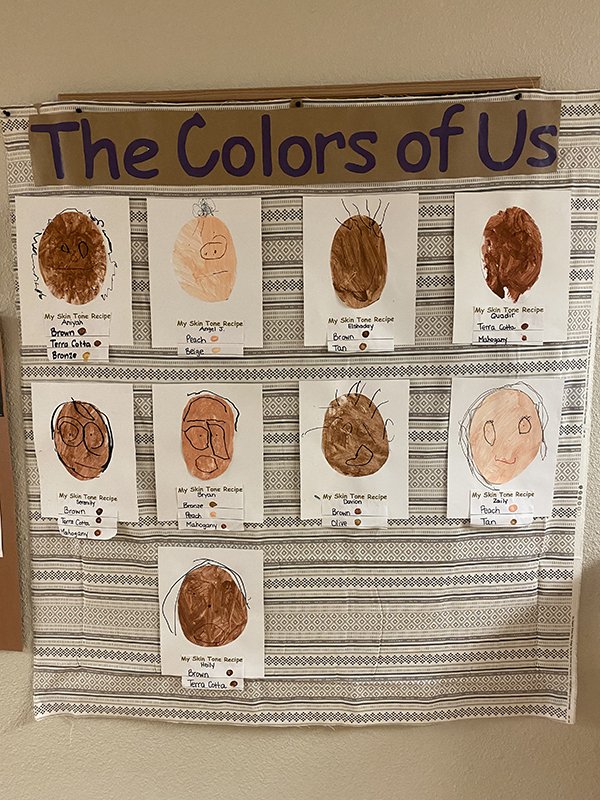 This month our hallways and classrooms are decorated in celebration of Black History Month. These are visual representations of the work our teachers do in the classrooms. This includes teaching children about their cultures, their differences, and the world around them.
An early education program can begin to address systemic inequity—learning about the history and systems of racial injustice in the US, developing facilitation and conflict resolution skills, and establishing a shared mindset of rigor, tolerance, honesty, and brave confrontation.
But to answer the question, "What does Black History Month mean to You?" we're sharing the voices of our Black educators.
Celebrating a Vogel Alcove Mother

This Black History Month, Voyage Magazine featured MamaNiyaa founder and CEO Hemrish Chirwa in their Inspiring Conversations feature! The Vogel Alcove family is proud and happy for Hemrish who is a Vogel client. Click here to read her full feature and learn more about the inspirational and life-changing story. Here's what she said about Vogel in the feature:
"Fortunately, when I began my studies, I also began my business and was introduced to an amazing and phenomenal woman through a mentorship program Empowered with a Twist of Faith at my son's school Vogel Alcove. Ebony Wingard has been such a great mentor, leader and motivator.

She helped me draft up my business plans, register my DBA and supported my venture with equipping me with my marketing material and domain. I am so grateful for Vogel Alcove and always providing parents with such useful resources especially during a pandemic, has been such a huge blessing.

Building my business now has not come at a better time for me and my boys. The staff there are heroes and work with you to see you and your family rise and grow, they are the ones who blessed us with the opportunity on meeting Ebony Wingard. I have had businesses before but when you have a group supporting and guiding you so you can feel supported in your purpose, makes all the difference."