This month our Family Support Team hosted the very first "Dining with Dads" group here at Vogel Alcove. This event is a way for the dads in our families to get together in fellowship and discuss the challenges they face leading their families toward recovery.
Lunch was served and the men interacted through games and discussion. Our parent opportunity center coordinator Carmen Lopez led the gathering, providing the men with talking points and reference videos featuring famous fathers in history.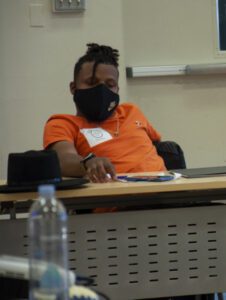 9 fathers came to this first meeting! This is a huge success, as the majority of our families are led by single mothers. Initially the men were quiet and reluctant to speak, by the end of the lunch the men were sharing in a lively discussion!
As this event grows and evolves, we hope to bring in volunteer speakers, ideally professional men juggling their career and family. Check back here and on our social media pages for updates!