Vogel Alcove Helping Children with Brain Development & Trauma Recovery
What is Mental Health Awareness Month?
Mental Health Awareness Month raises awareness of trauma and the impact it can have on the physical, emotional, and mental well-being of children, families, and communities. The purpose of Mental Health Awareness Month is to raise awareness and educate the public about mental illnesses, such as the 18.1% of Americans who suffer from depression, schizophrenia, and bipolar disorder; the realities of living with these conditions; and strategies for attaining mental health and wellness. It also aims to draw attention to suicide, which can be precipitated by some mental illnesses. Additionally, Mental Health Awareness Month strives to reduce the stigma (negative attitudes and misconceptions) that surrounds mental illnesses. 
The Effects of Homelessness on Children | Mental Health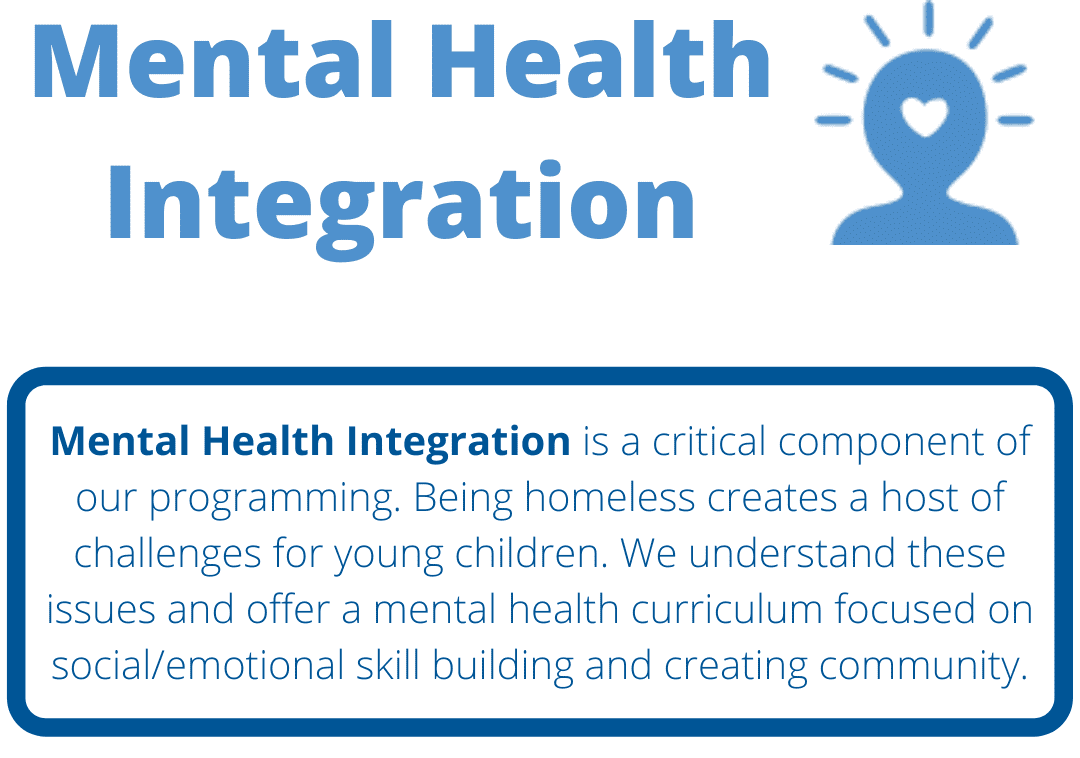 Children experiencing homelessness are four times more likely than their peers to show delayed development, and one in six homeless children has emotional disturbances. Additionally, 25% of homeless preschool children have mental health problems that require clinical evaluation, and by age 8, one in three homeless children will have a mental disorder.
Vogel Alcove intervenes with children at this critical time in brain development and provides trauma-informed care that puts them on a path to success in school.
Here are a few of the ways that we prioritize mental health for children of Vogel Alcove: 
Rewiring Brains | Early Childhood Program
Early childhood is the most critical time for brain development. 
The trauma of homelessness in a child can cause lifelong developmental, physical, and emotional damages. Vogel Alcove's Early Childhood Development program focuses on trauma recovery, with a researched-based academic curriculum in safe, nurturing surroundings that stimulate brain development.
Our Early Childhood Program is accredited by the National Association for the Education of Young Children (NAEYC), whose rigorous standards offer assurance of high-quality education. Vogel Alcove is a part of an elite 5% of childcare providers in the U.S. with this distinction.
Cognitive effects associated with childhood trauma may include poor planning ability, reduced impulse control, and impaired logical reasoning. When children's lives are unstable and unpredictable, it can be difficult to develop age-appropriate levels of trust in others or in their own decision-making skills.
Physical/behavioral effects of childhood trauma may include a heightened fight, flight or freeze response; increased incidence of ADHD, motor delays, hypervigilance (enhanced sensitivity and exaggerated response to perceived threats); temper tantrums; and tactile defensiveness (negative, disproportionate response to stimuli that most people would not consider painful). If children feel insecure about their physical well-being, they may become more protective, defensive, and tense, all of which can manifest in behavioral issues.
As one might imagine, the social/emotional effects of persistent trauma in early childhood can include anxiety, anger, detachment, depression, lack of empathy and difficulty cooperating and sharing. Preschoolers in trauma may lose or may never develop the ability to name, understand and feel their emotions in healthy ways. This deficit often leads to socialization and attachment challenges.
Repairing Hearts | Developmental & Behavioral Health
90% of brain growth occurs before age five. Childhood trauma and stress interrupts brain growth and causes impairments across the developmental domains– physical, cognitive, social-emotional, and language and literacy. 
Left unaddressed, these issues can have an effect well into adulthood. Nearly 30% of incidences of mental disorder were associated with adversities and trauma in childhood. By the time a child enters Kindergarten, it will be too late.
Vogel Alcove's Developmental & Behavioral Health team specializes in various services for children and parents. The use of mental health consultations for infants helps determine and correct delays. The team trains staff on trauma-informed, care best practices in the classroom and equips parents with behavioral intervention tools at home.
Vogel Alcove Counselors and Therapists help the children process and cope with physical, emotional, and psychological trauma. Onsite sessions in private therapy rooms and Telehealth therapy is offered to the parents as well. Play therapists work 1:1 with the children and in a group setting in The Vogel Alcove Sensory Village, Dallas' first sensory lab for children experiencing homeless.
These services repair the hearts of children and families of Vogel Alcove.
On-site Mental Health Therapy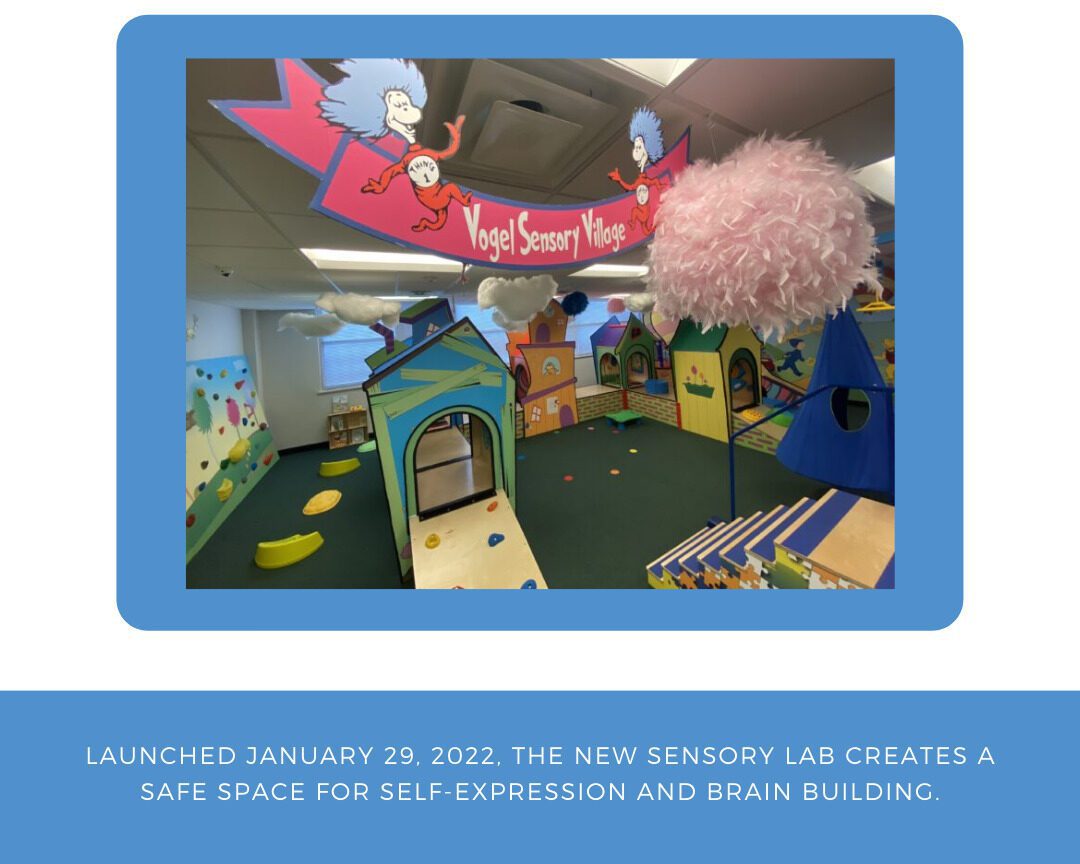 Obstacles such as being unhoused, food insecurity, health uncertainty, family instability & other factors are all sources of stress for people experiencing homelessness.
Children living with a depressed parent have poorer medical, mental health, and educational outcomes. We provide access to free behavioral health services for parents to help them cope with stressful life events. Parents can schedule on-site with our therapists and counselors or via Telehealth.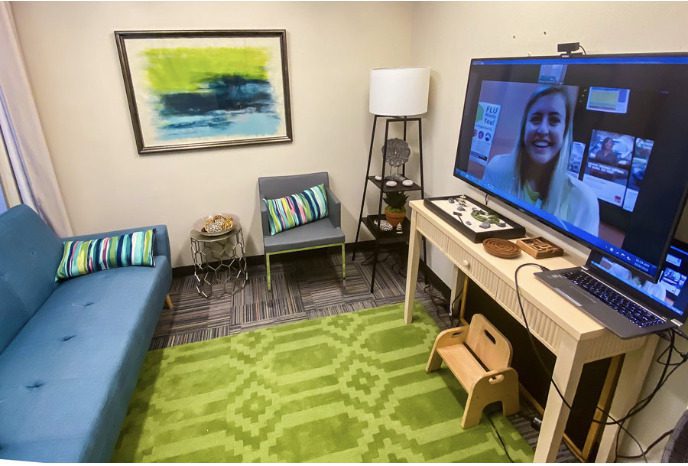 A child's first natural form of communication is playing, their language is play and their words are toys. Our Play Therapists help children explore emotions and deal with unresolved trauma. Through play, children can learn new coping mechanisms and how to redirect inappropriate behaviors. With toys, children are able to play out different situations in their life that are causing concern.
The therapists offer support to teachers in the classrooms as well as providing parents with useful tools and skills. Our playrooms are stocked with toys in the following 5 categories:
Expressive toys (craft supplies, easel & paints)

Aggressive toys (weapons, toy soldiers, foam bat and ball)

Fantasy toys (doctor kit, cash register, dress up, puppets)

Scary toys (reptiles & dinosaurs)

Nurturing toys (dollhouse, babies, kitchen)
If you or someone you know needs help right now, call the crisis hotline at 1-888-411-6802.