Vogel RedBird | New Facility in Southern Dallas
Dallas Nonprofit Vogel and The Shops at RedBird Partner to Create an Innovative Space to Serve Children and Families in Southern Dallas
New 15,000-square-foot childcare center will expand Vogel's reach and offer onsite access to anyone working at RedBird, as well as the community at large.
DALLAS (Sept. 15, 2023) – Dallas-based nonprofit Vogel and The Shops at RedBird announce the construction of Vogel's new 15,000-square-foot childcare facility at RedBird. Named The Rita Sue and Alan Gold Child and Family Center in recognition of the Golds' longtime support of and service to Vogel, the new space will have the capacity to serve 134 children aged six weeks through Pre-K and their families. Employees of any company located in The Shops at RedBird complex will have priority placement along with working families supported by Vogel, with remaining spots open to all southern Dallas families.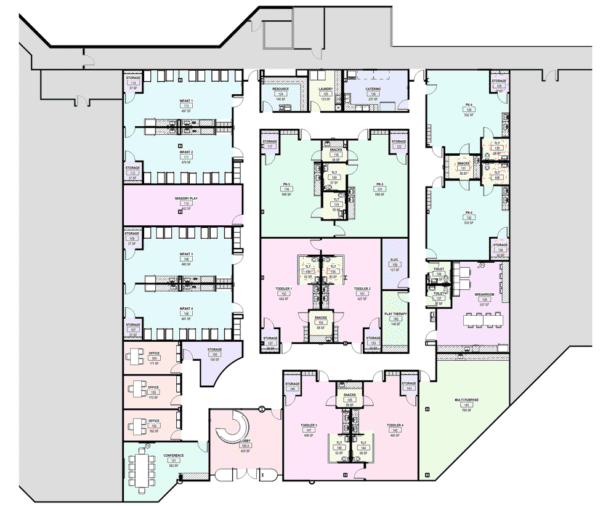 By offering a program accredited by the National Association for the Education of Young Children (NAEYC), whose rigorous standards offer assurance of high-quality education, as well as employment matching opportunities for families who need it, the Vogel/RedBird partnership will offer southern Dallas residents a much-desired amenity.
To further reflect its growth that includes RedBird, Vogel recently rebranded from Vogel, which represents its main campus location. Likewise, to reflect the progress of its redevelopment, The Shops at RedBird recently rebranded from Reimagine RedBird.
Work at Vogel RedBird will expand on the nonprofit's mission to help young children and their families prevent and overcome the lasting and traumatic effects of homelessness and poverty. With the construction of the new facility, Vogel will focus on serving working families in need of services, including early childhood education, family support, and primary and mental healthcare services. In addition, Vogel will connect families who need it with living-wage job opportunities at RedBird tenants Parkland Clinic, UT Southwestern, Children's Health, Jarvis Christian University, the DEC at RedBird, Workforce Solutions, Dallas College, and all retail, restaurants, and small businesses in the development.
"Our partnership with RedBird is truly a game-changer for how we can serve families and the long-term impact we can have on the RedBird community and the region beyond," said Vogel President and CEO Karen Hughes. "Our new facility will not only allow us to serve more families in a community where high-quality, affordable childcare has not been available, it will also offer those families easy access to the healthcare services and job opportunities available at RedBird."
The creation of the Vogel childcare center follows the commitment of The Shops at RedBird co-developers Peter Brodsky and Terrence Maiden to providing a long-term, donated lease to a community organization that would improve the quality of life for southern Dallas residents and those who work at RedBird.
"We were thrilled to donate the space to Vogel to allow them to make their best-in-class early childhood education more affordable to southern Dallas families," said Brodsky. "Irrespective of income – from the child of a UT Southwestern doctor to the child of a retail clerk to a Dallas College student – all will be welcome at Vogel. And we believe Vogel's presence at RedBird will remove a major obstacle for employees getting to work every day and for employers trying to lure their teams back to the office. It is a win-win-win."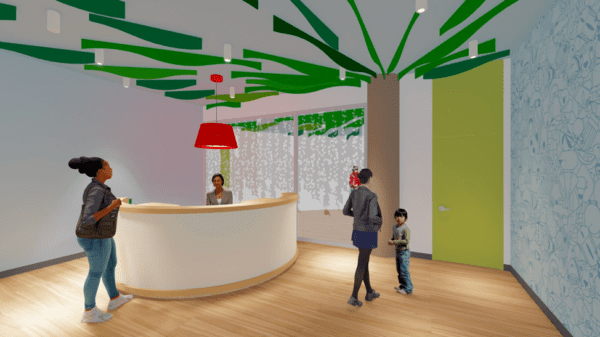 In addition to the reconstruction of the space that will soon house the new Vogel facility, updated features will also include a renovated exterior façade and a new entrance on the west side of the property for immediate, convenient access to Vogel; an updated corridor leading to the facility; and the addition of an outdoor green space and playground area where children can play and thrive. The Vogel childcare center is expected to open for the 2024-2025 school year.
Vogel recently honored Brodsky's partnership in creating the Vogel RedBird location and his work in southern Dallas with the 2023 Doris Budner Ambassador of Hope Award, named for one of Vogel's founders. In addition, Vogel recognized board member Paul Driscoll, who is CEO Hill & Wilkinson, the general contractor for the RedBird Vogel facility, with the 2023 Board Excellence Ambassador of Hope Award.
About Vogel
Since 1987, Vogel has provided a broad array of therapeutic services for children who are experiencing homelessness. Our skilled teachers specialize in trauma-informed care, and our behavioral and developmental specialists assess each child's intellectual, social and behavioral needs. We are also fortunate to have an expert team of event planning, fundraising, marketing and data management professionals. Our business practices are transparent, and our services for homeless children are transformative.
About The Shops at RedBird
The Shops at RedBird is a 100 acre, 800,000 square foot mixed use development in southwest Dallas. With healthcare, office, residences, retail, restaurants, green space and more, RedBird offers southern Dallas residents the quality amenities they desire and deserve. For more information about RedBird, visit www.shopsatredbird.com.